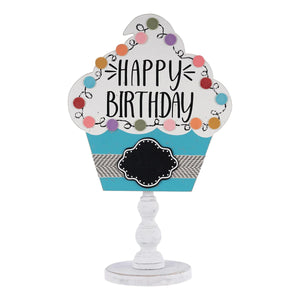 Happy Birthday Cupcake Topper
Regular price $29.00 Sale
Make your loved one's birthday extra special with this customizable cupcake topper for welcome boards and stands. Add their age or name to the chalk emblem for a personalized touch! Use this topper to decorate for that special someone's birthday! It is sure to make them feel loved! The colorful sprinkles add to the charm of this piece and make it fitting for all birthday themes! 

This topper fits perfectly in our stands and welcome boards (sold separately). Make sure to check out all of the interchangeable toppers we offer for seasonal and everyday use!
Original Design
Dimensions: 11.5" x 12.5"
Each of our toppers fits within our Welcome Boards and Stands making for easy decoration for any season!
Welcome Boards and Stands are sold separately from the interchangeable toppers.